A bagel is a kind of bread that originated in Jewish settlements in Poland. It is usually formed by hand into the shape of a ring using yeasted wheat dough that is roughly hand-sized, cooked briefly in water, and then baked. 
You can see several reliable bagel suppliers from the list below!
List Of Wholesale Bagel Suppliers:
Great Bagel Bakery
Bagel King Bakery
Spread the Bagel 
A&S Bagels, Inc.   
NYC Bagel Deli 
The Holy Bagel Company
The Great Canadian Bagel, Ltd
1. Great Bagel Bakery
Great Bagel Bakery is a pioneer in the world of bagels and breakfast meals. After committing to sustainability for the first decade of their company, they discovered that our flour's story was all at once incomplete. 
Even though they used organic flour, we had no idea where it came from, how it was cultivated or harvested, how it was processed, how long it had been bagged before the manufacturers received it, and all the extremely complicated stages in between. 
Now, they have amazing bagel supplies due to their strong ties with farmers like Noreen and Lee from Doubting Thomas Farms in Moorhead, Minnesota, and Harold from Janie's Mill in Illinois. You can count on them for quality!
Contact Info:
Phone: (859)258-2210
Email:  [email protected]
Website: https://eatgreatbagel.com/
Address: 3650 Boston Road Suite 108 Lexington, KY 40514
2. Bagel King Bakery
Bagel King Bakery makes over twenty different varieties of bagels, fresh handcrafted Danish in various sizes, muffins, croissants, varied pastries, specialty bread, and a variety of other bakery items.
Their production facility is near Orlando, and they distribute across Central Florida. Since 1977, Bagel King Bakery has successfully served Central Florida. Frank Perrotta established Bagel King Bakery in January 1977 with a mindset that would prove to be the secret to their success. 
Frank understood that what he desired and expected from a restaurant was the same as what his clients desired. thought that every client deserved the greatest service and the best bagel for their money. 
Contact Info:
Phone: 407-660-2000 
Website: https://www.bagelkingbakery.com/
3. Spread the Bagel 
Spread the Bagel is delighted to assist customers whether they need a little or large-scale bagel supply for their business. They have about a decade of bagel manufacturing experience, and their master bakers have over 20 years of bread-baking experience. 
For many years, they have provided fresh, tasty bagels to the Shanghai community. Their bagels are both reasonably priced and of the highest quality.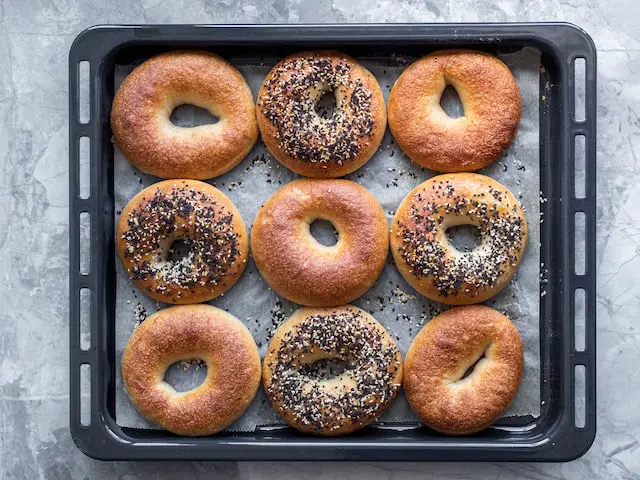 To assure the finest quality product, their bagels are produced using the highest quality flour and imported components. Their bagels have the malty sweet and somewhat fermented flavor as well as the original crispy texture that is necessary to New York bagels since they are retarded overnight. 
Contact Info:
Website: https://www.spreadthebagel.com/
4. A&S Bagels, Inc.   
A&S Bagels, Inc. is a distributor and retailer of tasty New York bagels, bialys, muffins, and other baked goods. A&S Bagels was named Long Island's Best Bagel by the Z-100 radio morning show (100.3 FM). 
In a poll conducted by New York's ABC station, their customers named them the "best bagel joint." They have been named one of the top 20 bagel shops in the United States. 
Their bagels have also been featured on CBS Morning News, Fox 5, ABC Channel 7 New York, Newsday.com, News12.com, Long Island Pulse Magazine, and Long Island Weekly. 
Contact Info:
Phone: (516)326-9288  
Email: [email protected]
Website: http://www.aandsbagels.com/
Address: 761 Hempstead Turnpike, Franklin Square, New York 11010.
5. NYC Bagel Deli 
AA nutritionist from Poland (the birthplace of bagels) and a chef from Melbourne who met in Greece. A hand-rolled Queensland bagel that is softer and quite possibly the greatest bagel you've ever eaten! 
Before unleashing the super bagel on the globe, their bagel entrepreneurs started with a market booth and learned what the locals loved. 
Both the bread culture and the numerous civilizations have inspired these lovely rings of pleasure. They might even argue it's quick food for today's global citizens! You can find them at the link listed below.
Contact Info:
Phone: 07-3844-9997 / 07-3150-8416
Email: [email protected]
Website: https://www.nycbageldeli.com.au/
6. The Holy Bagel Company
The Holy Bagel Company is Perth's leading supplier of boiled bagels and flavored cream cheese. They had an idea in 2013 to introduce good bagels to Western Australia. 
The Holy Bagel wanted to equip its culinary establishment with everything it takes to serve our delicious bagels. There was only one place on the planet where they could learn all about bagels, so they traveled to New York to study from the experts. 
They are dedicated to producing the best product possible. They take the effort to prove our bagels before boiling and baking them the conventional method. 
Contact Info:
Phone: 08-6180-8331
Email: [email protected]
Website: https://theholybagelcompany.com.au/
Address: Unit 12, 110 Bannister Rd, Canning Vale, WA
7. The Great Canadian Bagel, Ltd
Since 1993, THE GREAT CANADIAN BAGEL, LTD. has been happily serving Canadians. Features 24 types of freshly baked bagels, including plain, sesame seed, cheddar herb, everything, and chocolate chip, as well as their famous regular, hot, or, filled.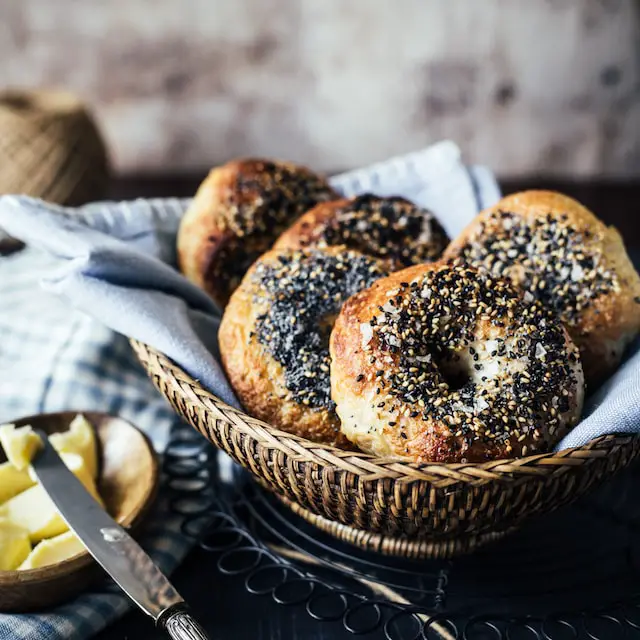 In-store, they make 21 different flavors of cream cheese spreads to pair with our bagels. Their bagels are completely natural and include no preservatives or chemicals. 
They were the first Bagel Café to serve breakfast all day. The sandwiches, soups, salads, and drinks are all available on the website listed below.
Contact Info:
Phone: (905) 566-1903 
Email: [email protected]
Website: https://greatcanadianbagel.com/
Mailing Address: P.O. Box 12053 Credit View, Mississauga, ON L5C4R7. 
Also, check out our article on the List Of Wholesale Deli Meat Suppliers & Vendors!