Frozen fruit may survive for months and is frequently less expensive than fresh fruit, which spoils faster. With frozen fruit, you may take out only what you need and save the rest for later. 
Frozen fruit is also advantageous because it has already been prepared for you. Therefore, many people prefer to buy frozen fruits instead of organic ones. You can see the list below to find out the suppliers!
List Of Wholesale Frozen Fruit Suppliers:
Nature's Touch
Wawona
Aseptic Fruit Purées
Berrifine 
Paris Food
Food Guys
The Program
1. Nature's Touch
Nature's Touch Eating healthy is not always simple in our fast-paced society. They strive to make consuming genuine food as simple as possible and to supply fruits in their natural state. 
They have dedicated their efforts to giving customers delicious, sun-kissed frozen fruits and veggies with no chemicals or preservatives, period.
In other words, they are committed to providing nutritious fruit as nature intended, and we think that genuine food should be as simple as possible. Their frozen fruit deals are a steal!
Contact Info:
Website: https://www.naturestouchfrozenfoods.com/
Address: 5105M Fisher Street, Saint-Laurent, QC H4T 1J8, Canada.
2. Wawona
Wawona was founded in 1963 and specializes in the harvesting and freezing of fresh fruits. The firm is an industry leader, exporting more than 100 million pounds of frozen fruit yearly, as the pioneer in the frozen fruit market. 
Wawona Frozen Foods provides many of America's favorite fruits, including fresh frozen peaches, strawberries, pears, plums, and unusual mixed fruit mixes, from orchard to table.
From its three processing factories in Clovis, Fresno, and Watsonville, California, the firm serves the retail, club store, food service, school, and food ingredient industries. The company's product line has grown to over 100 items!
Contact Info:
Phone: (559) 299-2901
Website: https://wawona.com/
Address: 100 W ALLUVIAL AVE, CLOVIS, CA 93611.
3. Aseptic Fruit Purées
Aseptic Fruit Purées is a fulfillment firm based in California and Florida that manufactures and distributes aseptic fruit purees for industrial applications.
Since its establishment in Alpharetta, Georgia, the USA in 2015, they have gone a long way, with safety, quality, and excellent customer service standards.
You can never be disappointed with their products as they are fresh, delicious, and last for months in their packaging. Their team ensures a delivery that is convenient to all!
Contact Info:
Phone: +1 (800) 949-5137 Ext – 0
Email: [email protected]
Website: https://asepticfruitindustry.com/
4. Berrifine 
Berrifine is a family-owned business that values the quality of its goods as well as its tight ties with its customers and suppliers. As a Danish family business, they are based in Denmark but have subsidiaries in Germany and China. 
With over 40 years of industry expertise, their manufacturing is structured to maximize the interaction between product quality, client demands, and environmental friendliness. 
They also source, manufacture, and process organic and conventional fruits and fruit-based products across North America, South America, Europe, and Asia.
Contact Info:
Phone: +45 57675005
Email: [email protected]
Website: https://berrifine.com/iqf
Address: Kærup Allé 2, 4100 Ringsted – Denmark.
5. Paris Food
Paris Food serves the Foodservice and Industrial markets with frozen vegetables, potatoes, legumes, and fruits. Paris wants to be its clients' most responsive and responsible supplier.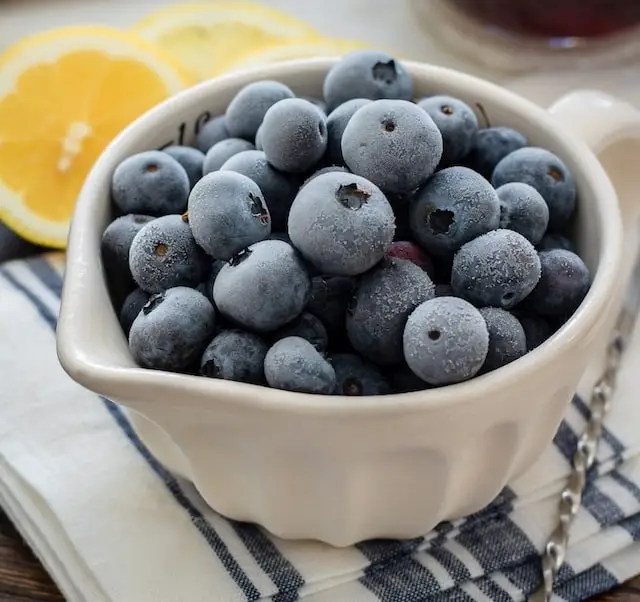 Paris packages and distributes merchandise in complete or partial shipments throughout the Northeast, Mid-Atlantic, Southeast, and Midwest from three sites on the Eastern Seaboard. 
Their experience in delivering fresh fruit makes them highlight the significance of inventory control over 60 years ago. You can call them for customer support at any time of day!
Contact Info:
Phone: (336) 551-3500
Website: https://parisfoods.com/
Address: 20 E. Hemstead St, Lexington, NC 27292.
6. Food Guys
Food Guys supplies a variety of bulk materials, industrial ingredient sourcing, negotiating, and shipping all the ingredients customers require from their extensive global networks.
They also provide bulk ingredients to producers in the food and beverage, personal care, cosmetics, and nutraceutical industries. You can find their list of frozen foods too!
Furthermore, food guys collaborate with retailers, distributors, and food service operators to provide bulk ingredient sourcing, and ingredient solutions, and to improve procedures associated with ingredient procurement, shipping, and storage.
Contact Info:
Phone: (561) 935-3815
Website: https://www.foodguys.com/iqf-fruit
7. The Program
The Program has been a part of our client's success for over 35 years. They have developed from humble origins as a small bakery supplier to a $30 million wholesale provider of frozen products, specializing in frozen fruit. 
The program was formed in 1980 by four industry executives with experience in industrial food marketing and production in Pennsylvania's scenic Lehigh Valley region. 
The program now offers over 100 SKUs, including difficult-to-find specialty fruits and vegetables like Acai and Zucchini including the ABCs of the bakery trade: apples, blueberries, and cherries.
Contact Info:
Phone: 800-557-7647 
Email: [email protected]
Website: https://profruit.com/
Address: 2374 Seipstown Road, PO Box 278, Fogelsville, PA 18051.
Also, check out our article on the List Of Wholesale Icecream Cones Suppliers & Vendors!