Jerky is made from lean trimmed beef that has been dried (dehydrated) to avoid spoiling. Normally, salt is added to the drying process to prevent bacteria development before the meat has finished dehydrating. 
Jerky comes from the Quechua term ch'arki, which means dried, salted meat. To make basic "jerky," all that is required is a low-temperature drying process and salt to limit bacterial development.
It's one of the most desired snacks in the world. Therefore, many suppliers sell this product, and this article lists a few of the best ones.
List Of Wholesale Beef Jerky Suppliers & Vendors:
Goldrush Farms
Jeff's Famous Foods, Inc.
People's Choice Beef Jerky
Whiskey Hill Smoke House
Savage Jerky
Jack Links
Katie's Beef Jerky
Mingua Beef Jerky
Dan's Smokehouse Jerky
Clint and Sons
1. Goldrush Farms
Goldrush Farms was founded by a man named Al Nimar. After graduating in 1997 with a degree in engineering, Al Nimer decided to pursue his dream of owning his own business.
His long-time love of beef jerky and beef smokies led him to create a product line of his own.
His business took off and these premium quality meat snacks became a huge success: Goldrush beef jerky is sold in all 50 states, and is known for its high-quality meat and taste!
Contact Info:
Website: https://goldrushjerky.com/wholesale/
Address: 9706 Crow Road, Litchfield, OH 44253.
2. Jeff's Famous Foods, Inc.
Jeff's Famous Foods, Inc debuted its business strategy with only a few thousand dollars, a period in history that the Department of Labor dubbed "the worst economic crisis since the Great Depression."
Humble beginnings in difficult times meant that hard effort and innovative business tactics were the only way to progress.
However, currently, their products are sold everywhere and this strategy proved to be successful with time. Their beef jerky is also delicious, and worth the taste!
Contact Info:
Phone: (800) 457-4010
Website: https://jeffsfamousjerky.com/
Address: PMB 151, Box 6848, Big Bear Lake, California 92315.
3. People's Choice Beef Jerky
People's Choice Beef Jerky was created by John Bianchetti in 1929 with just a little cash, just several traditional foods, and an unwavering will to thrive.
His objective was to establish a community butcher business that sold superior meats while maintaining truth, hard labor, and deep family ties.
Truly, the business has lived up to its name and is well-known for its good quality products and quick delivery service!
Contact Info:
Phone: 213-627-8633
Email: [email protected]
Website: https://peopleschoicebeefjerky.com/
Address: 1132 E. Pico Blvd, Los Angeles, CA 90021.
4. Whiskey Hill Smoke House
Whiskey Hill Smoke House is another leading supplier in the United States, as they sell a variety of amazing beef jerky flavors at their shop and online website too.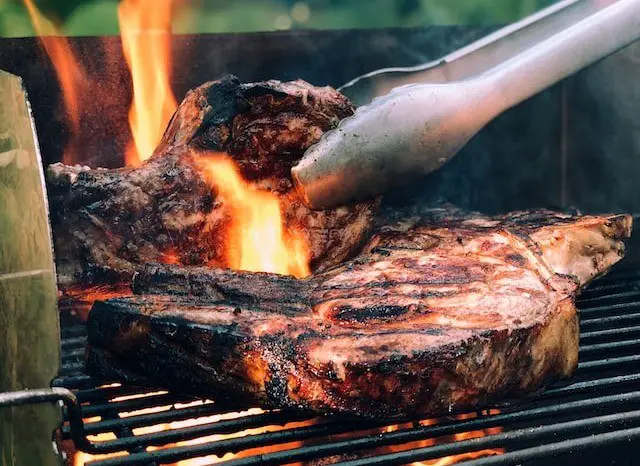 If you are thinking of ordering some delicious beef jerky, then they are a brilliant option, especially for bulk buyers!
Contact Info:
Phone: 503-981-2915
Email: [email protected]
Website: https://whiskeyhillsmokehouse.com/
Address: 2980 E Street, Hubbard, OR 97032.
5. Savage Jerky
Savage Jerky has hand-crafted beef jerky with distinct taste, including variants with more heat than even the most daring hot head can tolerate in one sitting.
They are a family-owned business managed by a group of close friends who are passionate about customer service and paying attention to detail.
They appreciate customers and hope that you will contact them with any questions from the information below.
Contact Info:
Website: https://savagejerky.com/
6. Jack Links
Jack Links was founded by a man named Jack who got the inspiration to create jerky using his great-old-world grandfather's recipes.
He and his sons collaborated to develop our first product, Jack Link's Original Kippered Beef Steak, an immediate favorite appreciated by friends, neighbors, and eventually the entire region.
The business escalated when Jack acquired a jerky packaging machine; this is when Jack Link's began selling nationwide, in the locations you can buy it today.
Contact Info:
Phone: (715) 466-2234
Website: https://www.jacklinks.com/
Address: PO Box 397, Minong, Wisconsin 54859.
7. Katie's Beef Jerky
Katie's Beef Jerky produces small batches of handcrafted, high-quality jerky. They sell spices, pepper powders, and pepper toppings in addition to jerky.
Entirely of their products are all-natural, have no preservatives, and are gluten-free.
You can also click on the link below to view the amazing quantity of beef jerky they offer at reasonable rates for wholesalers!
Contact Info:
Website: https://katiesbeefjerky.com/shop/
8. Mingua Beef Jerky
Mingua Beef Jerky is a family-owned business is located in the rolling hills of Bourbon County, Kentucky, and was founded by Ronnie Mingua, a farmer who believed there was a better way to create jerky. 
He started with the best slices of beef and, similar to country ham, employed salt to preserve his jerky while avoiding chemical preservatives. 
His adventure began one long, cold, and snowy winter and has led him to become one of the "Top 10 Jerky Companies in the Country." 
Contact Info:
Phone: (859) 987-9719
Website: https://www.minguabeefjerky.com/
Address: 180 Cleveland Drive, Paris, Ky. 40361.
9. Dan's Smokehouse Jerky
Dan's Smokehouse Jerky is prepared at Dan's facility in Weatherford, Texas, a Texas State Health Department licensed facility, then vacuum-sealed to ensure freshness and flavor. Dan is a meat processor who makes beef jerky, beef snack sticks, and sausage.
Although there are no restaurants nearby, many people come to their jerky facility to get their beef fixed. In Texas, they have the most desired jerky in convenience shops. 
Contact Info:
Phone: (817) 599-0006
Email: [email protected]
Website: https://internetjerky.com/
Address: 2521 Harwell Lake Road, Weatherford, TX 76088-8702.
10. Clint and Sons
Clint and Sons are made for people who want fresh and juicy beef jerky in their stores as opposed to the crunchy and processed ones in vending machines and most stores.
They have high margins of profits for their customers, amazing wholesale rates, a strong fan following, a variety of flavors and sizes, and they are manufactured in the USA only!
Contact Info:
Phone: 806-883-7831
Website: https://www.clintandsons.com/
Address: 115 W. 3RD, WHITE DEER, TEXAS 79097.
Also, check out our article on the List Of Wholesale Lobster Tails Suppliers & Vendors!