Churros are a kind of Spanish or Mexican dessert that is similar to a doughnut or cruller and is created with deep-fried unsweetened dough that is then coated with cinnamon sugar.
List Of Wholesale Churros Suppliers:
Churros
Mmediterranean 
The French Kitchen Castle Hill
The Churro Factory 
San Churro
Churros EL Tigre
Mr. Churros USA
1. Churros
Churros are one of the most popular sweets in the food service industry. 
Churros have so many unique possibilities that your clients will keep coming back for more.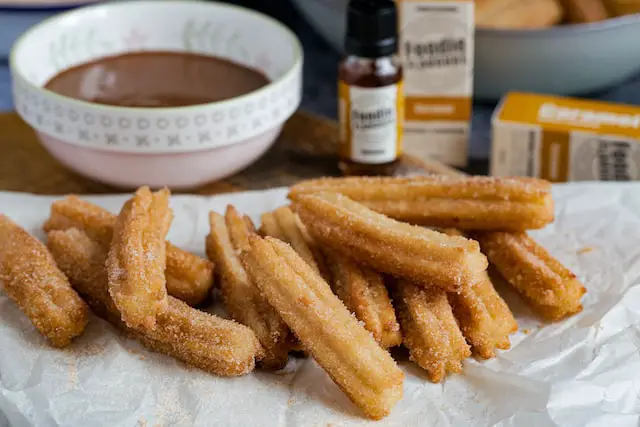 Churros, a famous dessert in Spain and most of Latin America, have several menus uses regardless of your business or market. Best of all, you'll save time and effort since J&J Snack Foods' delectable treats are simple to cook and serve.
Churros are being used as inspiration and flavoring for other more frequent sweets such as ice cream and cake by inventive operators. Try the crunchy, creamy taste of Oreo® Churros with soft serve ice cream or as a morning treat with California Churros® buns or bits. 
Contact Info:
Email: [email protected]
Website: https://churros.com/
2. Mmmediterranean 
Mmmediterranean was formed in 1998 to import unusual Mediterranean cuisine that was difficult to locate in the United States.
They sold directly to restaurants in the New York region throughout their first year. As they expanded, they began to market their Mediterranean cuisine items to distributors in different regions of the United States. 
They also enjoy that chefs and restaurants can deliver high-quality food. As a result, their primary goal is to discover really high-quality items. They are continually seeking the greatest rates so that the cooks may get the most for their money.
Contact Info:
Phone: +1 877 791 9401
Email: [email protected]
Website: https://mmmediterranean.com/
Address: 1100 Route 22 East, North Plainfield, NJ 07060, USA.
3. The French Kitchen Castle Hill
Rafael founded this legendary shop in Castle Hill in 1981, creating his famed profiteroles. He then went on to design "The French Mud Cake," their hallmark cake that customers still rave about today, and the selection renovated the shop and expanded their selection of food and party supplies to provide customers with all of your party needs.
The French Kitchen Castle Hill has a large selection of party supplies, including color-matched plates, cups, napkins, tablecloths, and decorations. They provide a wide selection of candies and lollipops, gourmet cakes, and fresh frozen desserts to tempt you. 
They have helped thousands of individuals in the Hills District have amazing events and make wonderful memories. They want to assist many more people in the future. 
Contact Info:
Phone: (02) 9634 2593 / (02) 9899 3680
Email: [email protected]
Website: https://thefrenchkitchen.com.au/
Address: Unit 1, 19 Victoria Ave, Castle Hill 2154, Corner Carrington Rd & Victoria Ave.
4. The Churro Factory 
The first churros created by The Churro Factory® were accessible in a modest café in Town East Mall in the Dallas region in 2003, thanks to the vision of its creators and financial backing from relatives. 
The Churro Factory quickly became popular, and customers would drive considerable distances to sample one of their delectable menu items. Their secret churro formula, which has been refined through time, is what has made The Churro Factory churros so famous and sought after.
Churros, often known as Spanish doughnuts, are delicacies made in the shape of a tube that may be simple or filled with sweet ingredients. Each shop that offers The Churro Factory goods is dedicated to adhering to the company's high freshness and quality 
Contact Info:
Phone: 214-994-6371
Email: [email protected]
Website: https://thechurrofactory.com/wholesale/
Address: 2156 W. Northwest Hwy, Suite #302, Dallas, Texas 75220.
5. San Churro
San Churro, like traditional chocolatiers in Spain, is a gathering place for friends to enjoy a delicious moment. Where all friends are invited to enjoy life the Spanish way.
Churros (Spanish doughnuts) are handcrafted in-store using a traditional recipe and brought directly from the Spanish churrera to your plate, garnished with cinnamon sugar and the finest couverture chocolate.
Every day, their churros are baked from scratch in our locations using a traditional (vegan-friendly) dough recipe. They are freshly prepared to order and brought directly from the Spanish churrera to your plate. 
Contact Info:
Website: https://www.sanchurro.com/
6. Churros EL Tigre
Churros EL Tigre also known as Plaza Las Americas is located in San Ysidro, San Diego. The objective at Churros EL Tigre is to provide a shock of pleasure and a needed respite from regular life in addition to selling exceptional churros and pastries. 
Their meticulous planning and familial touch set them apart from the competition. They have a terrific menu at Churros El Tigre, including fresh churros topped with lechera, chocolate, strawberries, and cajeta.
Churros el tigre has rapidly become a catering favorite for many people around San Diego County. They also serve delectable hot bananas covered with lechera. They also have raspados in over ten different varieties, including mango, strawberry, and hibiscus. 
Contact Info:
Phone: 619-867-2915
Website: https://churroseltigre.com/
Address: 4211 Camino de la Plaza, San Diego, CA 92173.
7. Mr. Churros USA
Mr. Churros USA TM was founded in 1998 and is a completely worldwide business. They are regarded as the world's largest Churros company, developing a creative and one-of-a-kind concept that covers all areas of Churros and associated product sales, including mobile carts, kiosks, and commercial storefronts.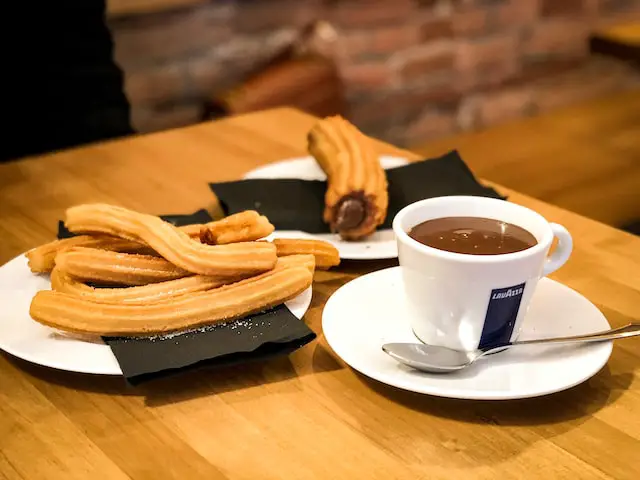 During their early days in Puerto Rico, we took their first steps by designing a cart that could be operated anywhere, with the sole purpose of resurrecting the sale of this old and traditional product with a new and fun approach, allowing customers to choose between the traditionally simple Churro and the new concept of cream-filled Churros.
The website opened its doors to the rest of the globe and allowed them to begin completing equipment orders from all over the world, converting the initial concept into an exciting and successful reality that has contributed to the Churros' fame in over 30 nations.
Contact Info:
Phone: 305-967-4505
Email: [email protected]
Website: https://mrchurros.com/
Address: 1045 SE 9th Ct, Hialeah, FL 33010.
Also, check out our article on the List Of Wholesale Waffle Cone Chips Suppliers & Vendors!