Waffle cones feature more sugar than sugar cones, but they're also a far better source of fiber. If you want to pile on plenty of toppings when you eat ice cream, waffle cones are for you.
Their generous rim ensures that condiments like sauce, sprinkles, and nuts stay put. 
In addition to ice cream, granola, and frozen yogurt, waffle cones are great for serving fresh fruit. You can find amazing waffle cones chips from the list below.
List Of Wholesale Waffle Cone Chips Suppliers:
Chip Guan Heng 
Joycone
Gil's Ice Cream Supplies
Matt Cones
Cone Guys
Commissary Supply, Inc.
The Konery 
1. Chip Guan Heng 
In 1970, with perseverance and hard labor, Chip Guan Heng () was established. Goh Sing Yam chose the phrases "Chip," "Guan," and "Heng," all of which indicate "gather," "resources," and "prosperity," respectively, for his new business.
Traditional ice cream culture in Singapore is in danger of disappearing altogether. The government plans to eventually eliminate ice cream vendors off the streets.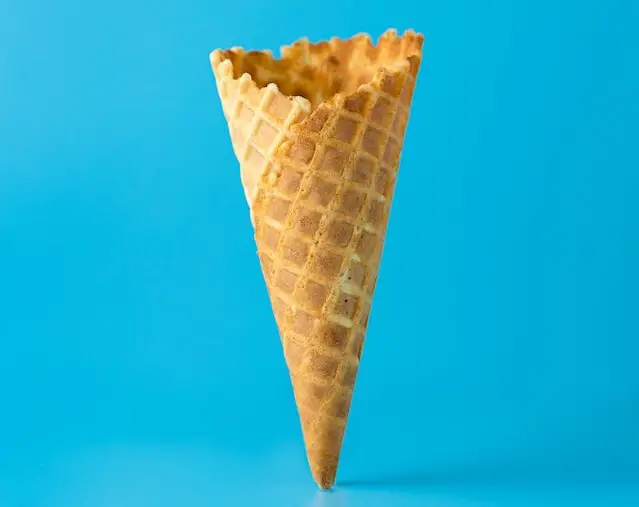 There have been no new licenses granted since 2004. The number of street vendors in Singapore is steadily decreasing since ice cream cart permits are not transferrable.
They are committed to doing more than just preserving history; they want to restore it to its former glory.
Contact Info:
Phone: 6440 8084 / 6440 8075
Email: [email protected]
Website: https://chipguanheng.com/
2. Joycone
Joycone has been perfecting the art of cone baking since 1918 as a privately held company that is wholly owned by its employees. Their company has been in operation for almost a century, and it all began as a family enterprise. 
After working in this industry for so long, they have perfected the cone manufacturing process. They are the leading manufacturer of ice cream cones in the United States because of the high quality of their products and the excellent service they provide to customers.
There are now four sites where they create about 2 billion cones annually. Their company's roots may be traced back to its original headquarters in Hermitage, Pennsylvania. Flagstaff, Arizona, Le Mars, Iowa, and Mexico City, Mexico.
Contact Info:
Phone: (724) 962-5747
Website: https://joycone.com/
Address: 3435 Lamor Road, Hermitage, PA 16148.
3. Gil's Ice Cream Supplies
In 1978, Gil's Wholesale Distributors, Inc. opened its doors in South Philadelphia, Pennsylvania, to serve as a wholesale distributor of cigars, tobacco, and sweets. The business was launched in a garage and eventually expanded into a 2000-square-foot retail space.

Demand for Gil's Wholesale's goods and services increased, and the company was soon recognized as a leading distributor for the booming ice cream, Italian ice, gelato, and frozen dessert industry.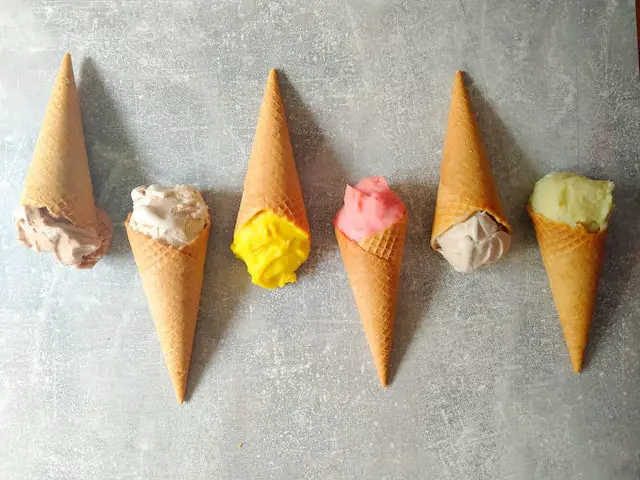 Their company has been in business for over 40 years, and they carry a wide variety of products including ice cream mix, Italian ice flavors and bases, gelato ingredients, variegates, toppings, syrups, cones, candies, cleaning supplies, and snow cone and popcorn supplies.
Contact Info:
Phone: 610-237-6501
Website: https://www.icecreamsupplieswholesale.com/
Address: 320 W. Oak Lane, Glenolden, PA 19036.
4. Matt Cones
Matt Cones has a long history of baking in the Netherlands dating back to 1929. Their third generation continued the family business when they opened Matt's Cones in 1992 in Orange, Virginia, at the base of the Blue Ridge Mountains. 
Matt's uses Dutch heritage with the most current technology in both its original American facility and its newer, more advanced operation in Waynesboro to bake the tasty, high-quality items that its consumers deserve.
They were the first company to provide eco-friendly cups and a variety of waffle cone sizes and flavors. Currently, you may choose from three distinct flavors and eight unique varieties of waffle cones.
Contact Info:
Phone: 1-800-888-2377 / 540-283-9347
Website: https://mattcones.com/
Address: PO Box 1002, Waynesboro, Virginia 22980.
5. Cone Guys
At The Cone Guys, they go above and beyond to make sure their customers enjoy their ice cream cones. You won't find any treat like the original pretzel Cones, which are the perfect balance of sweet and salty.
They provide four unique varieties of gourmet ice cream cones, including: First-Ever Pretzel Rolls, Chocolate-filled cookie cones, and Candy-filled chocolate-chip cookie cones.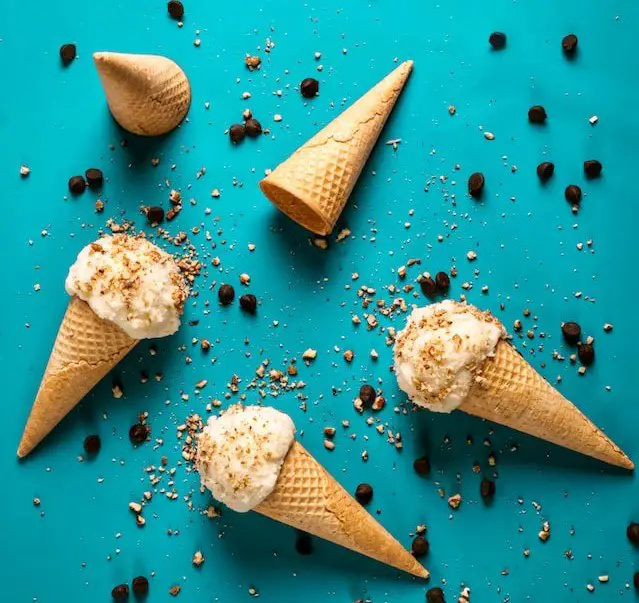 In their opinion, the quality of their service is best shown via an individual approach. They produce higher-quality cones and provide workers the chance to develop into leaders while also giving them a stake in the firm as owners. 
Contact Info:
Phone: 215-781-6996
Email: [email protected]
Website: https://coneguys.com/
Address: Grundy Commons, 925 Canal St #3210, Bristol, PA 19007, USA.
6. Commissary Supply, Inc.
Commissary Supply, Inc, based in Sarasota, Florida, stocks thousands of wholesale ice cream and frozen yogurt supplies, ready to ship to ice cream shops and other food service merchants. 
When Commissary Supply expanded from its original location in Pompano Beach in 1989, it occupied an 8,500-square-foot facility in Sarasota's Northgate Business Park. Their Florida headquarters has grown, and they have a brand new 20,000-square-foot warehouse also in the Northgate Business Park! 
 They have created a thriving enterprise over the years, one in which they represent approximately 40 well-known product lines and attend to the needs of more than 300 clients located all over the globe. 
Contact Info:
Website: https://www.commissarysupplyfl.com/
Address: 1675 Independence Boulevard, Sarasota, FL 34234.
7. The Konery 
The waffle cone is a traditional treat, but at The Konery they want to give it a contemporary and original spin by using the freshest ingredients possible. Their boxed cones are sold at many grocery stores, convenience stores, and grocery stores specializing in gourmet and specialty foods.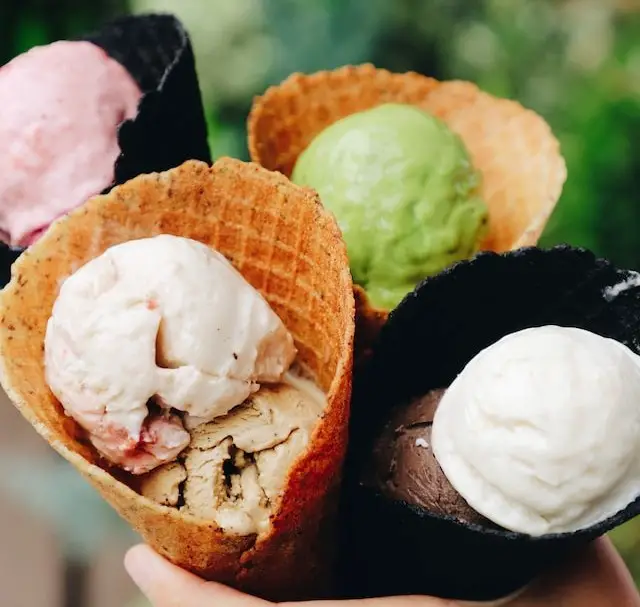 Since the company's founding in 2014, they have made it a point to prioritize the usage of high-quality ingredients above everything else to ensure optimal flavor, texture, and overall consumer experience. 
All their items are available at wholesale prices to commercial customers. Ice cream parlors, gelato stands, frozen yogurt franchises, and dining establishments are among their clientele.
Contact Info:
Phone: (718) 532-4550
Email: [email protected]
Website: https://www.thekonery.com/
Address: 140 58th Street, Building A, Suite 5N-4, Brooklyn, NY 11220.
Also, check out our article on the List Of Wholesale Cocoa Powder Suppliers & Vendors!