Macaron, often known as a French macaron, is a delicious meringue dessert composed of egg white, icing sugar, granulated sugar, almond flour, and food coloring.
The macaron is said to have been invented in France during the Renaissance by the Italian cook Queen Catherine de Medici.
Macrons are very famous all over the world and have great importance to culture and history in Europe.
Therefore, they are in great demand, and the list below consists of some of the best wholesale macaron suppliers in the world!
 List Of Wholesale Macarons Suppliers & Vendors:
Chelles Macrons
Detoni
Loomas
Nikkolettes Macrons
Delifrance
Lauduree
Alexandra Macrons
Noisette
Lemacaron
Agmacrons
1. Chelles Macrons
Chelles Macarons has been bringing its touch on the traditional French pastry to the heart of Dallas and Plano since 2015.
Their purpose is to bring loved ones together to enjoy the highest-quality and most imaginative macarons in the Dallas region.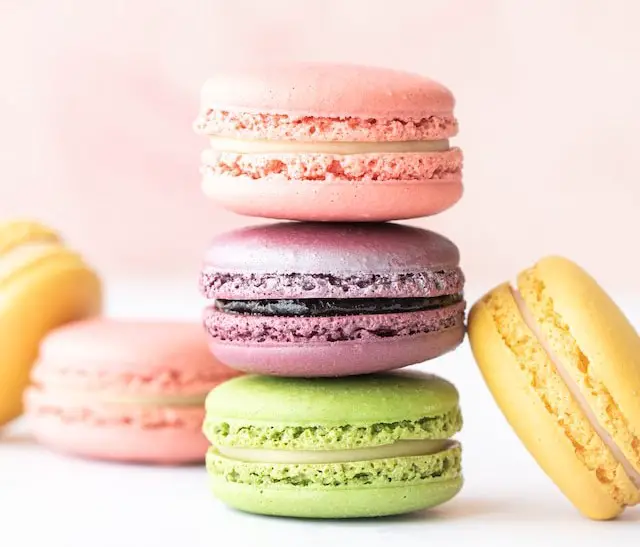 They make similar French Macarons that are light, delicious treats that can be flavored and colored in an infinite number of ways.
The best part? The dainty size fills you up without adding extra calories. 
Contact Info:
Phone: +1 (404) 334-3588
Email: [email protected]
Website: https://www.chellesmacarons.com/wholesale
Address: 2979 W 15TH ST. PLANO, TX 75075.
2. Detoni
Detoni was founded in 2010 when Klemen Popit and his family decided to relocate to Australia and develop their existing successful business.
He chose to create a wholesale patisserie in Sydney after graduating from Le Cordon Bleu Culinary Institute.
They serve a variety of markets, including events, diverse venues, weddings, cruise ships, airlines, wholesale distribution centers, and many more! You can check out their macron flavors from the link below!
Contact Info:
Phone: 02 9939 8183 / 02 9451 2584
Email: [email protected]
Website: https://www.detoni.com.au/macarons/
Address: Unit 2/17 Rodborough Road, Frenchs Forest NSW, 2100
3. Loomas
Loomas is all about gourmet quality cakes and small sweets, the convenience of a free cost delivery service that covers all of Sydney's suburbs!
Their cakes, macarons, and small sweets are all produced from scratch at our amazing cake factory by their highly talented chefs, who use only the best ingredients such as Fonterra New Zealand butter and Belcolade chocolate.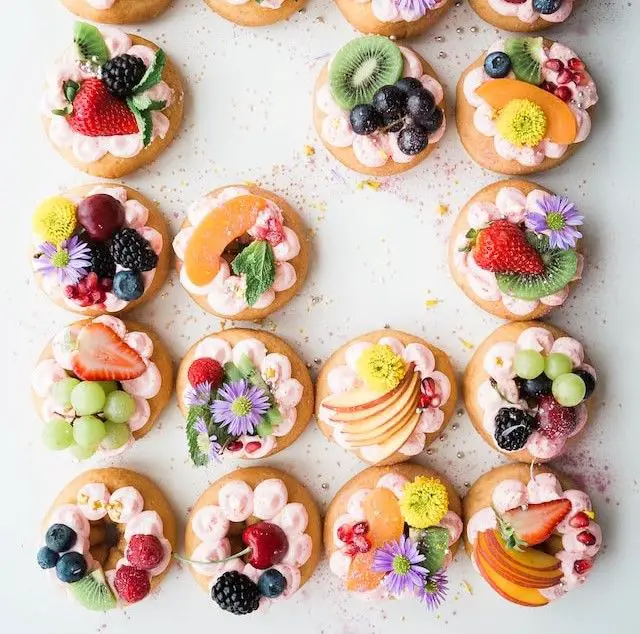 You can have their macrons delivered to your doorstep or catch their products at the team of expert drivers that transport them all over the land.
Contact Info:
Website: https://www.loomas.com.au/
4. Nikkolettes Macrons
Nikkolettes Macrons specializes in delicious French macarons, and they can also be customized.
Nicolette makes each macaron with mathematical accuracy using egg whites, sugar, and almonds.
They sandwich a white or dark Belgian chocolate ganache between two meringue-based biscuits to fill our macarons.
They also make each flavor from scratch using all-natural, preservative-free, and gluten-free ingredients.
You can get their natural macrons from the link below.
Contact Info:
Phone: 651-334-8821
Email: [email protected]
Website: https://www.nikkolettesmacarons.com/shop/
Address: 3425 HIGHWAY 169N, PLYMOUTH, MN 55441.
5. Delifrance
Delifrance is a member of VIVESCIA, France's first-grain cooperative group.
Their team provides an all-day, fast-casual eating experience in 11 countries across Europe and Asia.
Throughout the day, classic French menu items such as renowned artisan, original Parisienne baguette, and flaky pure butter croissants are freshly cooked on-site, including their famous macarons.
You can select your country and order from the shop nearest to your location too!
Contact Info:
Website: https://www.delifrance.com/
6. Lauduree
Lauduree is one of the leading suppliers of bakery goods in the United Kingdom and is known for its exquisite and luxurious taste.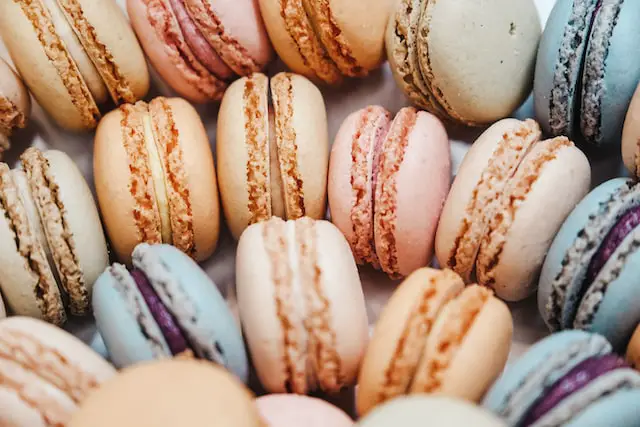 Their macarons are amazing and available in various flavors such as rose cardamom, raspberry, chocolate, lavender, vanilla, rose blood, lemon, pistachio, and many more!
Contact Info:
Email: [email protected].
Website: https://www.laduree.co.uk/
7. Alexandra Macrons
Alexandra Greenwald founded this woman-owned in Seattle, Washington, in 2013. It began as a dream, explored via word-of-mouth chances, and expanded into a successful company with a cult following.
Alexandra's Macarons can be found at your favorite farmer's market, in their Ballard Bakeshop, or at one of their 25+ wholesale clients.
You can see their shop in Seattle's Central District, or shop online from their official website!
Contact Info:
Phone: 206-518-3895
Email: [email protected]
Website: https://alexandrasmacarons.com/
8. Noisette
Noisette has two manufacturing plants that serve the Melbourne metropolitan area as well as certain remote communities.
The principal manufacturing plant, located in south-east Melbourne, is a purpose-built facility open 24 hours a day, seven days a week.
This factory manufactures all bread and pastries in addition to serving as the major packing and delivery center.
All cakes are created and sold in the Port Melbourne retail store, along with a broad selection of bread and pastries.
Contact Info:
Phone: 03 9646 9555 / 03 9646 9566
Email: [email protected]
Website: http://noisette.com.au/
Address: 84 Bay Street, Port Melbourne VIC 3207.
9. Lemacaron
Le macaron is a representative of European pride as in Europe, the macaron is regarded as the crown gem of French desserts.
Their macarons will make you happy, as they claim the first bite is unexpected, and all adds up to a mouthful of ecstasy!
Their authentic French macarons are the ideal treat; French gelato, French pastries, European-style drinks, and more! 
Contact Info:
Website: https://lemacaron-us.com/
10. Agmacrons
Anet Gesualdi Macarons, a part of AGM Bakery, is a specialty macaron shop with a location at 709 The Queensway.
They have a variety of French Macarons available, ranging from our signature flavors to seasonal limited editions.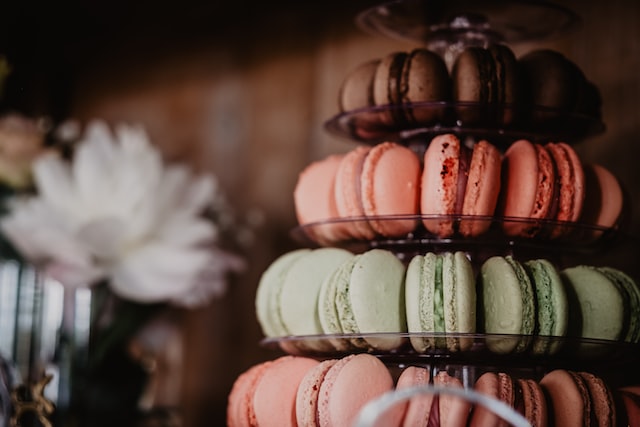 They endeavor to deliver the greatest flavor, texture, and aesthetic appeal to our customers!
They also supply to over 200 merchants, who love baking and handcrafted items over mass production.
Contact Info:
Phone: 647-977-3030
Website: https://www.agmacarons.com/
Address: 709 THE QUEENSWAY, ETOBICOKE, ON M8Y 1L2.
Also, check out our article on the List Of Wholesale Donut Vendors & Suppliers!