A hot dog is a grilled or steamed sausage served in the slit of a partly cut bread. The sausage itself is alternately referred to as a hot dog, a wiener, or a frankfurter. 
The names of these sausages frequently allude to the meal in which they are served. Regardless, hot dogs are sold all around the world in various types of meals!
The list of suppliers can help you get the best hotdog meat in your area.
List Of Wholesale Hot Dogs Suppliers:
Carolina Packers
Kayem
Hofmann Sausage Company
Schweigert Meats
Berks Foods
Sabrett
Champs Food Suppliers
Wenning Foods 
Soloways Hotdog Factory Outlet
All American Hot Dog Co
1. Carolina Packers
Carolina Packers was founded on December 12, 1939, John A. Jones Sr., a native of Claxton, Georgia, and a group of local merchants established the company in Smithfield, North Carolina.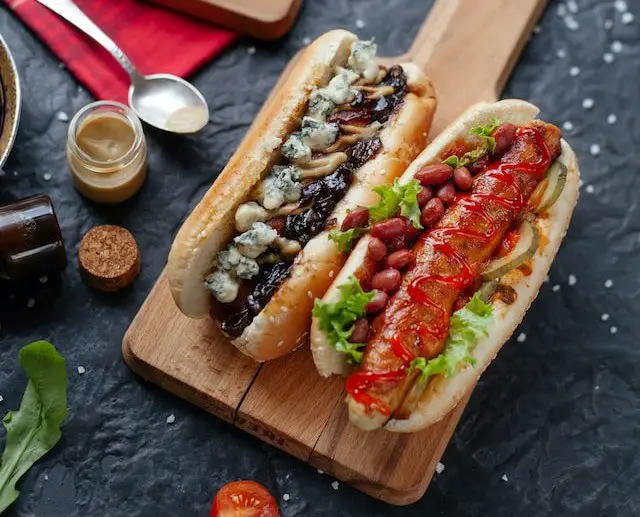 For the following 50 years, they made hams, bacon, country link sausage, and the renowned "Bright Leaf" hot dogs, bologna, Red Hots, and smoked sausage from locally raised cattle and pork. 
Contact Info:
Phone: (919) 934-2181
Website: https://carolinapackers.com/
Address: 2999 S Brightleaf Blvd, Smithfield, NC.
2. Kayem
Kayem When Kazimierz and Helena Monkiewicz immigrated to the United States from Poland, they carried with them not only their hopes for a better life but also their passion for preparing and sharing their favorite Polish meats and recipes.
Eventually, they created a business that sold amazing meat to the market that has loyal customers to this day. You can check out their supply of hot dogs from the list below.
Contact Info:
Website: https://www.kayem.com/
3. Hofmann Sausage Company
Hofmann Sausage Company began as a regional favorite based on using exceptional cuts of meat and the greatest spice mixes have evolved to include customers throughout the country who are passionate about their product line.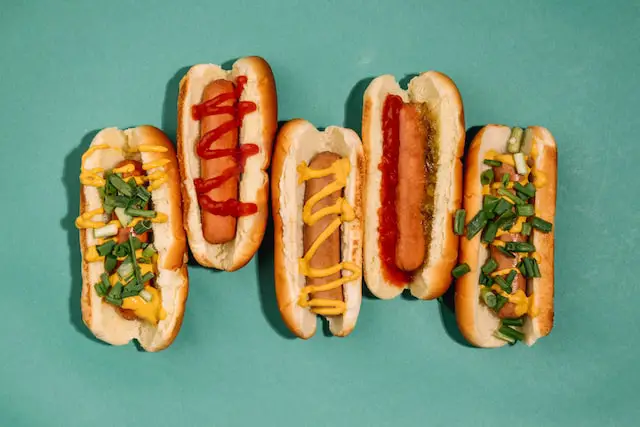 They produce a wide range of hot dogs and sausages, supple beef jerky and Hunter Sticks, and seasonings that complement a wide range of dishes. 
Contact Info:
Phone: 1.800.724.8410
Website: https://hofmannsausage.com/
Address: 585 Stewart Drive, Syracuse, NY 13211.
4. Schweigert Meats
 Schweigert Meats launched his first retail business in North Minneapolis, which specialized in fresh and cured meats. 
Ray had one aim in mind: to produce the best-tasting, highest-quality meats possible. 
Schweigert lasted for 33 years, developing to service generations of consumers throughout the Midwest. Bakalar's Sausage Co., based in La Crosse, Wisconsin, now owns and operates Schweigert Meats. 
Contact Info:
Phone: (800) 459-7760
Email: [email protected]
Website: https://schweigertmeats.com/
Address: 2760 Hemstock Street, La Crosse, WI 54603.
5. Berks Foods
Berks Foods is a third-generation, family-owned, and run meat processor in Reading, Pennsylvania, founded by the late Mr. Charles A. Boylan. The company employs roughly 140 hardworking individuals.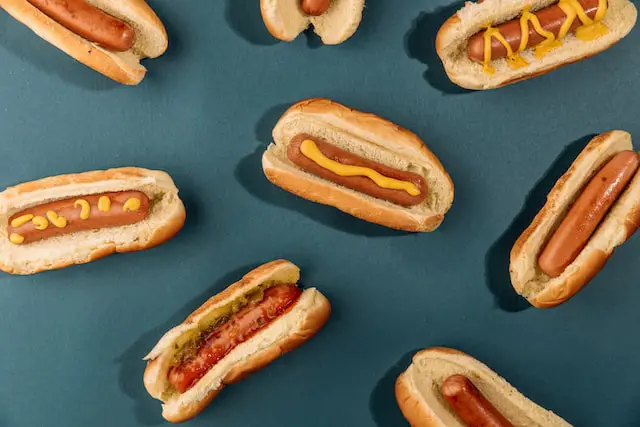 The company progresses due to its dedication to employing the greatest quality ingredients for the best taste goods, as well as its expansion into new meat categories such as sausage, ham, hot dogs, ring bologna, bacon, and deli meat. 
Contact Info:
Phone: 800.882.3757
Website: https://www.berksfoods.com/
6. Sabrett
Sabrett is a registered brand of Marathon Enterprises, Inc and a significant regional supplier to the retail, wholesale, and food service sectors with a long history of quality and service. 
Retail supermarkets, wholesale clubs, independent distributors, movie theatres, amusement parks, snack bars, pushcart sellers, conference centers, ballparks, and stadiums are among their direct customers. You can be one too!
Contact Info:
Phone: 201.935.3330 / 07631- 4607
Email: [email protected]
Website: https://sabrett.com/
Address: 9 Smith Street, Englewood, NJ.
7. Champs Food Suppliers
Champs Food Supplies is a wholesale meat wholesaler well-known for its hot dogs and sausages, which are utilized by hot dog sellers around Toronto. 
They serve the general public, companies, restaurants, merchants, and food wholesalers in the Greater Toronto Area. They are proud of their reasonably priced, fresh items, that are delicious too!
Contact Info:
Phone: (416) 205-9555
Email: [email protected]
Website: https://champsfoodsupplies.ca/
Address: 11 Widmer St, Toronto, ON M5V 2E8.
8. Wenning Foods 
Wenning Foods remains dedicated to Long Branch and the Jersey Shore. The Wenning Foods "Neon Hot Dog" on Broadway is recognized as a Jersey Landmark by hundreds of thousands of locals and visitors alike.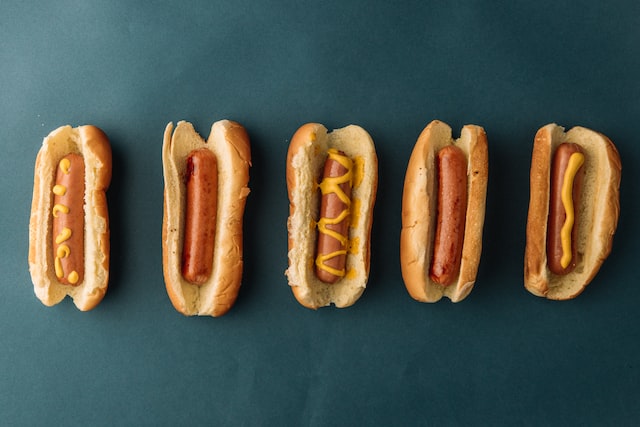 Their shop is open from Monday to Friday, 7 a.m. to 4 p.m., and Saturday, 7 a.m. to 2 p.m. Wenning Foods ships to every state in the union!
Contact Info:
Phone: 732-222-3085
Website: https://wenningfoods.com/
Address: 7 Pearl Street, Long Branch, New Jersey, United States.
9. Soloway's Hotdog Factory Outlet
Soloways Hotdog Factory Outlet is a leading hotdog supplier based in Toronto, Canada. Their food is quite famous and is known to be delicious, and this is verified by the long list of loyal customers.
The shop is always flooded with customers buying hotdogs for their business or shops: if you are looking into buying hot dogs in bulk in Toronto, they are the best ones there!
Contact Info:
Phone: (416) 350-8385
Website: https://streetmeattoronto.business.site/
Address: 79 Richmond Street East, Toronto, ON M5C 3A6, Canada.
10. All American Hot Dog Co
The Original All American was established in 1972 with the belief that the consumer is always king. The owners noticed that there was a genuine need to provide individuals with their own low-cost, and high-quality hot dogs.
It was designed to be an almost indestructible workhorse, and 42 years later: It is nearly unaltered. They have added 5 more similarly durable carts to their portfolio since 1972, and continue to deliver excellent customer service and follow-through. 
Contact Info:
Phone: 1-800-808-1396
Email: [email protected]
Website: https://allamericanhotdog.com/
Address:835 Commerce Park, Ogdensburg, NY, 13669.
Also, check out our article on the List Of Wholesale Sugar Suppliers!